Palestine Oasis

Al-aqsa - Massacre
Al-aqsa is a Holly Mosaquee in jerusalem city the Capital of Palestine. It was attacked by the Israeli Terrorist Army in 29/9/2000
Palestine , So We don't Forget ...
If we hunt down of Isreal enemy origin's .......... We found , evil , harted , racism , criminers.
Please help us to remind everyone of innocent victims whom we have lost in massacre of Al-aqsa . Al-aqsa the massacre through which 300 innocent victim were slaughtered will always remains in our memory until the end time. We will resist Israel enemy till the last beat of Arabs heart .
Please help every person around you in the wolrd to know the real facts of this aggression that killed over 300 men, women and children.This page has been created in order to remember all the people who died.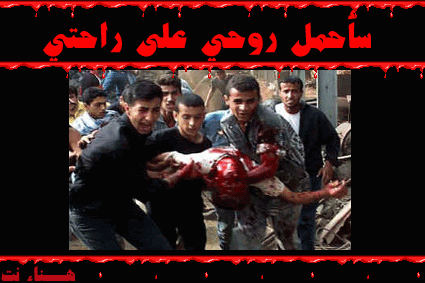 Our condolences to Our Martyres who died
In Intifada started since 29/9/2000 and still on .
---
Last updated 10th October 2000 Written and Designed By Rafic Adnan El-saleh
Names, pictures and logos are the copyright ®1998 by Organization Name Palestine Oasis
(C)Copyright 1998 Palestine Oasis. All rights reserved.